Over the years I have really enjoyed using prosumer super-zoom cameras by Canon, Nikon, and Panasonic. Super-zoom cameras feature focal lengths that almost defy belief. My current super-zoom camera, the Panasonic FZ-300 has a 25-600mm f/2.8 lens that can be expanded to 1200mm. Lugging around let alone affording equivalent lenses in the D-SLR world is completely out of the question. Here is a practical example of the focal lengths:
Can you spot the alligator?
24 mm equivalent
Here he is!!
1200 mm equivalent
While no camera system is perfect, I find myself grabbing my super-zoom camera when out photographing in nature. They have several distinct advantages:
I can hike all day long through challenging terrain and conditions and hardly notice my 21 ounce camera. All of its accessories fit in a small camera bag and I can place that bag along with a lunch, my rain jacket, etc. in a small backpack.
The small 1/2.3" sensor allows for great depths of field making close-up and macro photography much easier. Often I like to depict elements of nature within their natural habitat and environment. The small sensor cameras make it ideal - here's an example:
This mushroom is only a couple of inches tall. Photographing this with a D-SLR would have rendered the background completely out of focus.
These little cameras have very good image stabilization systems. Here is an example of a handheld shot at 1000 mm equivalent at 1/60 second. Not too shabby!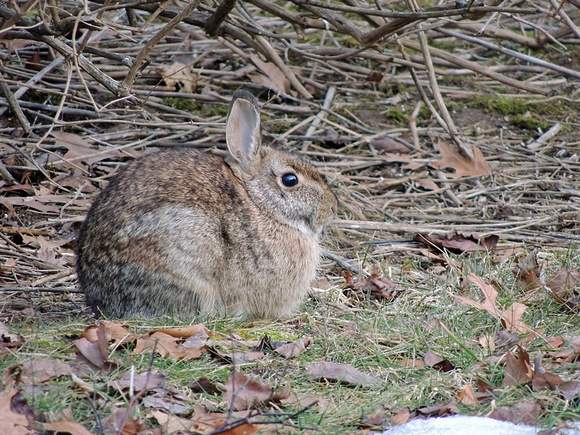 When I lived in Connecticut, I had a favorite bird photography spot along the edge of a salt marsh. Getting to this spot was quite an undertaking. I had to thread myself through patches of thorn bushes and overhanging brush. Once there, I didn't have much room to work with and maneuver around. Having a small camera on a small tripod made it much easier to negotiate a smaller area.
I really enjoy photographing birds on a feeder. With my previous setup, the feeder was about ten feet away from the open window in which I photographed. A loud shutter would have certainly scared many birds away.
Having a large working distance from your subject is important. Many times if you try and approach an animal be it a bird, mammal, or insect, it will usually flee. Perhaps even more important is avoiding altering the animal's natural behavior. Many animals have a hard time merely surviving, so giving them space is important.
Using a super-zoom allowed me plenty of working distance with this resting Plover. These little guys expend so much energy during migration and refueling, and being able to photograph it from a distance allowed it to rest.
All-in-all, super-zoom cameras are a lot of fun to use. Here are some of my memorable photographs taken with super-zooms: